The Night Circus - in review
For January, I joined
Julie
- and many others! - in her blogger book club. I have never belonged to a book club before, and I LOVE books and discussing them, so I figured this could be a fun place to start. So I am looking forward to reading what everyone else has to say!
The book was chosen through a poll on Julie's website, and the book that I selected was the one that ended up winning! We read
The Night Circus
by Erin Morgenstern.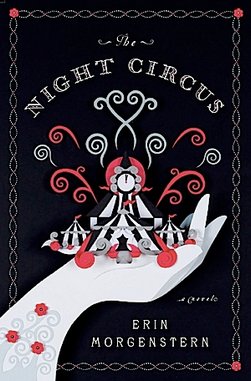 My review will be below, so if you have not finished the book yet, DON'T READ THIS!
The book is about two young illusionists destined before they knew anything of it to compete against each other to the death. Celia was chosen to compete by her father, a great magician in his own right, and Marco was chosen by the mysterious man in the grey suit. They are brought up learning all about magic, following the instructors of their leaders.
The Night Circus or
Le Cirque des Reves
just appears and is up and running without any notice from its neighbors until it has arrived and is up and running. The circus is open from nightfall until dawn, and Celia is one of the performers in the black & white tents. Marco works for the gentleman who conceptualized the whole circus.
The book was not written in a linear timeline, there was a little bit of jumping back and forth within about 10-12 years. Initially, I found that to be confusing, and I was having trouble keeping track of the characters and the story, but eventually I managed to get the han of things and where certain people were at certain times. Did anyone else have trouble with this?
It took me a little bit of time, but I wound up hooked on this book. Once I knew who the different characters were and at what point in time I was, I was hooked. I had it on my kindle, so it took me about 10 days to get to "55% complete" but then I couldn't stop reading it and finished the entirerest of the book in one sitting.
For a first novel, Erin Morgenstern did an incredible job on this book and she developed the characters in such a way that I felt genuinely concerned for them and their well-being.